As the global community celebrates the 50th Anniversary of Earth Day on April 22, 2020, Academy of Art University is proud to be at the forefront of sustainability initiatives in art and design. Early in their history, The Academy adopted a focus on sustainability and preserving the earth's resources. This ethos is absorbed by the students and fleshed out in numerous practices.
Why is Sustainability Important?
Human civilization requires the use of natural resources to survive and maintain our way of life. Sustainability and sustainable practices focus on finding a balance between using only what we absolutely need – including advancements in economics and technology – and protecting the environment in which we all must live.
This is important to preserve as many natural resources as possible for future generations as well as to maintain a clean, safe environment for ourselves today. Many non-renewable resources are consumed each year; these will not be available for future generations. Sustainability initiatives seek to preserve these non-renewable resources for as long as possible, while also developing and using sustainable resources in their stead.
Some examples of this include recycling paper, metal, glass, and other materials while using more natural and biodegradable materials to make products we use the most. Preserving and reusing resources while creating new items that do not harm the environment are practices that can be adopted by almost any industry. This includes creativity and the arts.
Modern students are more aware than ever that the resources of today will not last through tomorrow or far into the future. They are proactive in seeking out sustainable initiatives to incorporate into their everyday creative practices.
Antonio Borja, Director of Academy School of Industrial Design, captured this thought when he said, "While our imaginations for creating new products are infinite, our natural resources are finite."
How Do Academy Students and Alumni Incorporate Sustainability into Their Work?
This year's Earth Day focus centers around climate change. Academy of Art University consistently emphasizes sustainable practices in every aspect of art and design. In fact, according to The Academy, "We are proud to have our students leading the conversation on sustainability in design themselves. Our initiatives are driven by students and we are here to support their passion."
Artists and designers who learn to incorporate sustainability practices at every level of their work while in school will doubtless carry this ingrained emphasis into their future practices at the professional level. In this way, Academy of Art University sees its student-led emphasis on sustainability and sustainable practices perpetuated throughout the arts industry.
Here are some examples from a few Academy of Art University schools, students, and alumni.
School of Fashion
Before it became an accepted or promoted emphasis,  Academy of Art University's School of Fashion incorporated sustainable practices into their DNA. Before it became popular, students learned to choose more environmentally-friendly materials for their designs, and use technology and techniques to minimize waste.
Three-dimensional prototyping software allows students to virtually construct garments using different materials, colors, and patterns, before any material, is chosen. This greatly reduces waste by allowing them to try an endless number of combinations virtually.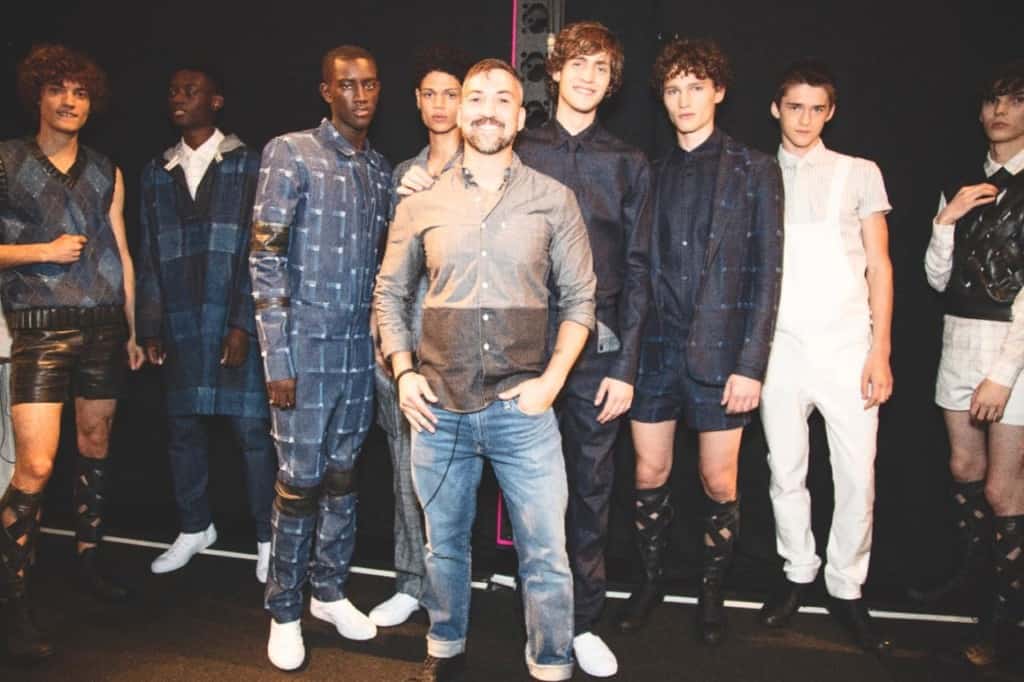 Academy of Art University alumnus Eden Slezin (MFA Fashion Design) uses locally sourced organic cotton and (yes, you can believe it) recycled bicycle inner tubes to create his line of men's fashion wear. His sustainable creations were showcased at the 2020 New York Fashion Week Men's Day where they definitely turned heads and garnered much interest.
Academy alumnus Yaryna Zhuk (MFA Fashion Design) presented her sustainable graduate collection at the New York Fashion Week in September 2019. It featured creations that were eco-friendly and utilized techniques that enabled her to cut and use material while producing minimal waste. Even decorative drapes and ruffles are cut from single fabrics using a particular cutting method to minimize waste.
School of Industrial Design
Using a new take on recycling, industrial designers are increasingly focusing on a new concept of up-cycling. This means designing everyday products that can be transformed into other usable products once their original life cycle is completed. This helps to preserve valuable natural resources while using more sustainable resources in design and production.
At Academy of Art University School of Industrial Design, students learn to use Augmented Reality (AR) and Virtual Reality (VR) to create authentic models of their designs without constructing as many physical model prototypes.
Academy Industrial Design student Santiago Bastidas designed a completely new automobile that users can experience for themselves using a VR sketching and visualization tool called Gravity Sketch. The technology allows users to virtually test the design features without interacting with a physical prototype.
Another Industrial Design student, Eliza Payer, used the same VR tool to design a new collection of performance running shoes. New sustainable design techniques also helped her reduce the number and amount of materials used during design and construction.
School of Communications & Media Technologies
The Academy School of Communication & Media Technologies is using sustainable production practices gleaned from media industry-leading companies. These include using LED bulbs in all production lighting to reduce electricity usage and resulting heat, which also lowers the energy needed for air conditioning. All paper scripts and production documents are now digital, and both staff and students use iPads and tablet computers to replace stacks of paper literally one foot or more high.
Another huge effort was replacing the use of standard batteries with rechargeable solutions. With over one hundred batteries of all kinds used each month in various production and communication tools, this not only reduced costs, it removed part of the 20-50 million metric tons of electronic waste that is produced each year.
On the Cutting Edge of Sustainability
Academy of Art University faculty, students, and alumni are on the cutting edge of developing new ways to incorporate sustainable practices into creativity and the arts. The Academy has historically been an agent for change in the arts community by pioneering new practices and techniques for creativity. This is primarily realized by allowing the students themselves to embrace new concepts and push the envelope of the possible.
Simon Ungless, Executive Director of Academy School of Fashion, said, "Very often, the designers drive the conversation because they're very much part of a generation that wants to instigate change."
Change, innovation, and creativity are all deeply embedded in Academy of Art University ethos. These forward-looking principles are what makes The Academy one of the largest private arts education institutions in the United States.