Have you heard about cryptocurrency and wondered what all the hype was about? Or maybe you assume it's only for rich people or tech junkies with special knowledge of how to tap into those markets. Robinhood is once again changing the market by making cryptocurrencies available to anyone, right from your phone, with no commission fees.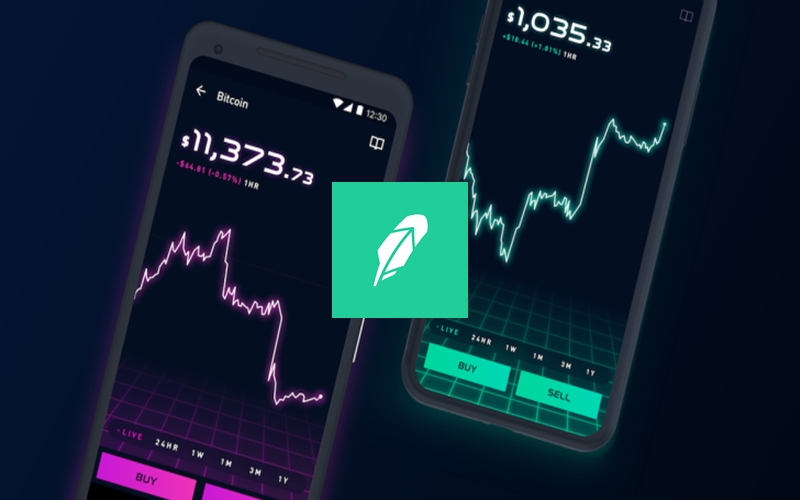 A Friend to the Everyday Investor
Robinhood is the brainchild of two friends from Stanford, Baiju Bhatt and Vladimir Tenev, who found themselves in New York City after graduation selling trade software to hedge fund companies. They were struck by how inaccessible the stock market was for the average American. Why do Wall Street traders pay next to nothing to trade stocks, while individual investors are hit with fees? Why is investing so mysterious to the average person? Shouldn't you be able to make trades from any device with an internet connection?
The two returned to California and started their venture to democratize trading with a free app that would never charge a commission fee. Their first clients appreciated the ease and simplicity of making trades right on their handheld devices, and millennials loved it.
Robinhood has come a long way since those early days. When they started in 2015, Bhatt and Tenev were pioneers with their commission-free stock trading for anyone with mobile service. They later added website access to their stock, exchange-traded funds (ETFs), and option trading services. The company's expansion to include cash management, cryptocurrencies, and fractional share offerings encouraged its client base to grow steadily.
In 2018, the company surpassed E-Trade with more than five million users and $150 billion in transactions. By December 2019, 10 million users were regularly using Robinhood's services, and it is now expanding to offer services to clients in the U.K.
How to Sign Up
Getting started on Robinhood couldn't be easier. You create a login and share your social security number, address, and other necessary information. Then, Robinhood connects to your bank account – using instant verification with most large banks – for a seamless transaction.
There is no minimum to trade, and fractional shares are available for as little as $1. This allows users to buy into funds with steep individual share costs and makes investing more accessible for everyone. Low or no minimums also make it easy to diversify without a lot of cash, and trades always take place in real-time. There are over 5,000 stocks to choose from, as well as 250 global funds that are not available on the U.S. stock exchange. Bonds and mutual funds are not part of Robinhood's offerings.
Robinhood keeps costs low for its customers by being entirely mobile and web-based and operating its own clearing system. All accounts are SIPC insured to $500,000. Investors benefit from instant access to proceeds up to $1,000 when they sell stock, and up to $1,000 of their deposits is always available.
Streamlined Experience
When you invest using the Robinhood app or website, your phone screen won't be cluttered with extraneous information, but you'll always have access to your transaction history, portfolio values, and watch list. Both the app and web version have a feature that lets you follow "collections" of stocks in industries that you value – for example, socially responsible stocks – where you can easily sort and compare with other funds. With the touch of your finger, you can execute on limit orders, stop orders, stop-limit orders, and market orders.
Expanded Offerings
While all Robinhood members can take advantage of day trading, more active traders may decide that it's worth the $5/month subscription price to upgrade to Robinhood's Gold service. Gold members get access to extended trading hours, larger instant fund availability, and additional reports from Morningstar and NASDAQ. The gold status also allows subscribers to take advantage of margin account investing, which allows them to borrow funds to make investments. The Financial Industry Regulatory Authority dictates that you must have $2,000 in your account to participate. Please note that buying stocks on margin can be risky and is, therefore, best left to experienced investors.
Added in 2019, Robinhood's cash management service now provides an FDIC-insured location to hold your uninvested funds while you earn interest (currently 0.3 percent APY). Robinhood does this by partnering with banks that hold the funds in the interim to make deposits. This account comes with a debit card that is accepted anywhere that takes Mastercard and at over 75,000 ATMs. This no-fee account has a waitlist as it rolls out, so be sure to check it out if you think you might be interested.
Although Robinhood is no longer the only company to offer commission-free trades, it continues to break ground by offering cryptocurrencies. By bringing on Head of Crypto Sina Nader at the end of 2019, Robinhood now has the in-house capability to offer a secure platform for this expansion. The company is revolutionizing the trading business by combining stock and crypto on one platform.
Robinhood's pursuit to bring 16 types of cryptocurrencies to the masses is rolling out now, dependent on state regulations. Seven cryptocurrencies are currently available for purchase, and they're all free of commissions and fees. These cryptocurrencies – including Bitcoin, Ethereum, Dogecoin, and Litecoin – are available in 46 states and Washington, D.C.
If you just want a taste of the company, Robinhood Snacks is a wildly successful podcast that hit 10 million downloads in January. The daily 15-minute update gives Robinhood's spin on financial news that could interest or impact its customers. The company's online help center also has a robust guide for frequently asked questions about how to invest, covering everything from why you should invest to the steps you should take to set up dividend reinvestment (DRIP).